Share, Learn, Network, & Collaborate with 360NeuroGO

Our NEW private community-powered platform for healthcare professionals. 

Get instant access to easily searchable neuro-related content when you need it! Keep up with discussions, events, and messages on the go - all in one place. Ask a question, create a discussion, join live events, share your expertise and much more.

👋 Connect and Engage
Introduce yourself

 and tell us where you are from, your background, your specialties, & skills 
Attend a live event
Share your knowledge

and expertise




🗺️ Explore our content 
Find what you need faster with assessments, treatments, and tools all in one place
Discover our
VestibularGO
,
CervicalGO
,
VisionGO
, and
ConcussionGO
spaces
Customize your notifications to stay on top of what matters to you
🔍 Search our organized content, tools, and resources
Use the search feature where you can look for topics, questions, and comments
Keep up with your discussions, events, and messages on the go
Find what you need, when you need it without having to spend hours searching online

💬 Enroll, Learn, and Apply Skills
Experience community-powered learning 
Stay motivated through discussion, resources at your fingertips, and 1:1 real-time connection
Set your pace of learning and apply these skills as you progress through the information
🤝 
Share Your Achievements & Knowledge
Help someone with a 
question or challenge
Share your experience live at our monthly 
check-ins
Schedule a 

Meet the Expert

 interview with us to share your story and passion for your area of specialization

"Since we're on a new platform (thank you, Jeseka and Bridgett, and whoever else is putting this together!) I thought I would say hi, so happy you are all here. I'm a HUGE fan of 360NeuroHealth and have learned so much and continue to learn so much here. What a priceless resource in this complicated and rewarding field. I completed the CCVR class in the spring and am now only seeing vestibular and cervical patients in an outpatient setting."
- Annie M., 360NeuroGO Premium Member

Explore our NEW & re-designed community-powered courses👇

💡Visual-Vestibular-Cervical Integration Training Post-Concussion Masterclass
Come join us for our online, live Visual-Vestibular-Cervical Integration Training Post-Concussion Masterclass on Dec. 5th - 9th! You'll learn how to transfer findings from concussion-related balance assessments into treatment progressions, consider the various options in vestibulo-ocular reflex training, integrate basic visual rehab activities when appropriate, identify cervicogenic components post head trauma, and have exposure to clinical pearls in both current and future trends in concussion management.
Go here to learn more
💡Certificate of Competency in Vestibular Rehabilitation (CCVR) 2.0 Course
Build your understanding and know-how through practical application of the methodologies in vestibular rehabilitation – the same methodologies we use to assess and treat the vestibular population. The CCVR 2.0 Course provides you the flexibility of having a learning plan that best suits your needs through a self-paced journey or a guided approach. Come be a part of our learning journey!
Go here to learn more


💡Business of Balance & Dizziness Summit 2023
Join us live on February 2 - 4, 2023 for the virtual Business of Balance & Dizziness Summit 2023! Whether you're interested in expanding specialty services related to dizziness and balance through a multi-disciplinary approach, integrating a comprehensive concussion clinic from pre-injury to time of injury to post-injury and throughout the rehab process, learning about novel treatment ideas, or investing in new technology that improves patient outcomes, you'll find insights from our notable speakers and panelists that can be implemented in your setting right away. Go here to learn more

💡Advanced Decision-Making in Vestibular Medicine: Algorithms & Heuristics Bootcamp
This bootcamp is a novel approach for translating clinical vestibular knowledge to practice and applying it to complex clinical scenarios using precision-driven care plans. You've successfully completed a vestibular rehabilitation certification course and now have a strong foundation and deep understanding of dizziness and balance disorders. More often than not, however, we are talking to our colleagues about complex clinical scenarios, not predictable ones. This bootcamp is designed to help problem-solve these multi-factorial and complex patient scenarios. Go here to learn more

Explore our 360Neuro Shop👇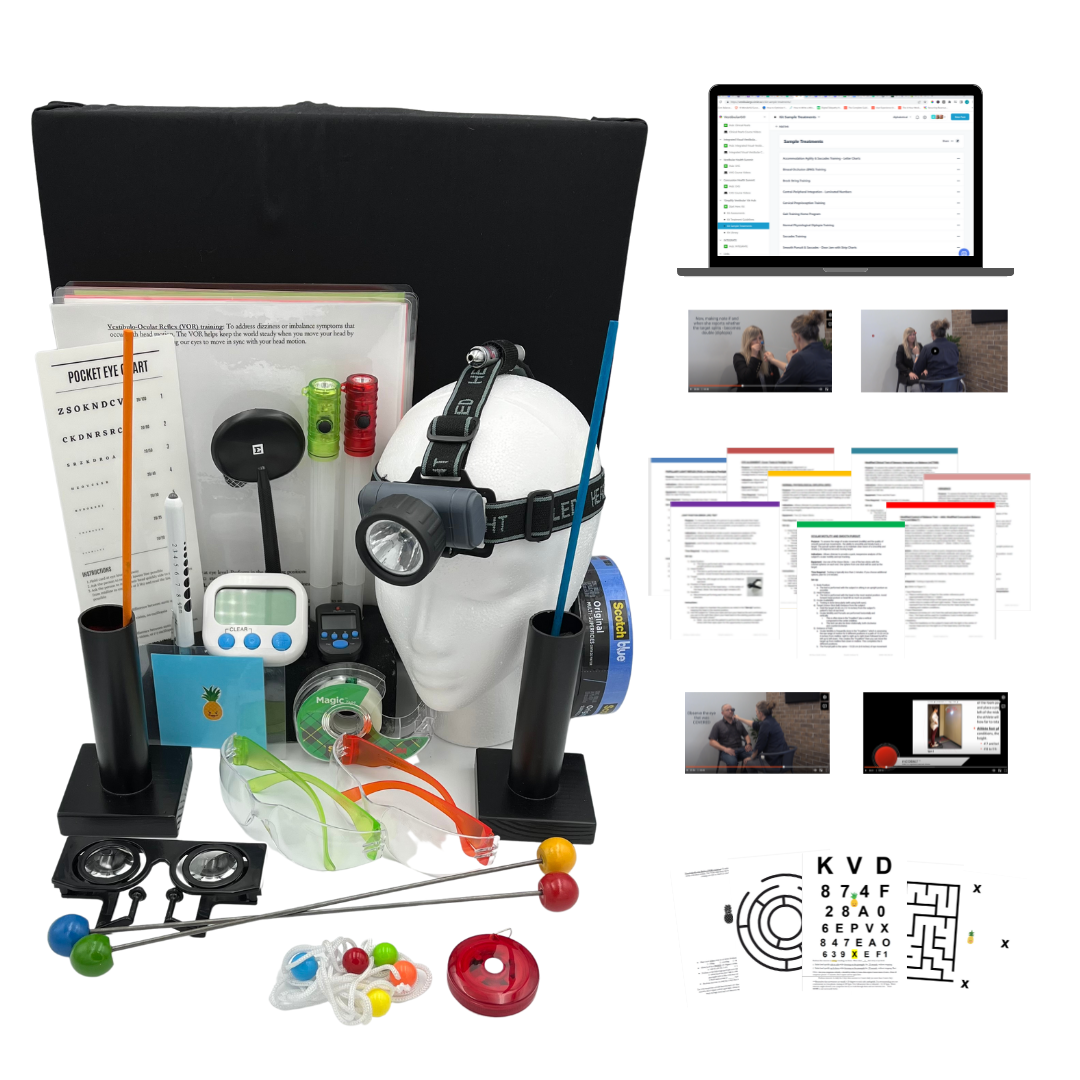 'Simplify Vestibular' Kit



Includes the tools you need to perform testing for eye alignment, oculomotor, vestibular ocular reflex function, balance, motion sensitivity, and cervical kinesthetics.
Vestibular-visual-gait assessment and treatment tools at your fingertips plus a balance assessment protocol designed for use in concussion management programs and with higher-functioning non-concussed individuals. Another bonus: it's fully portable.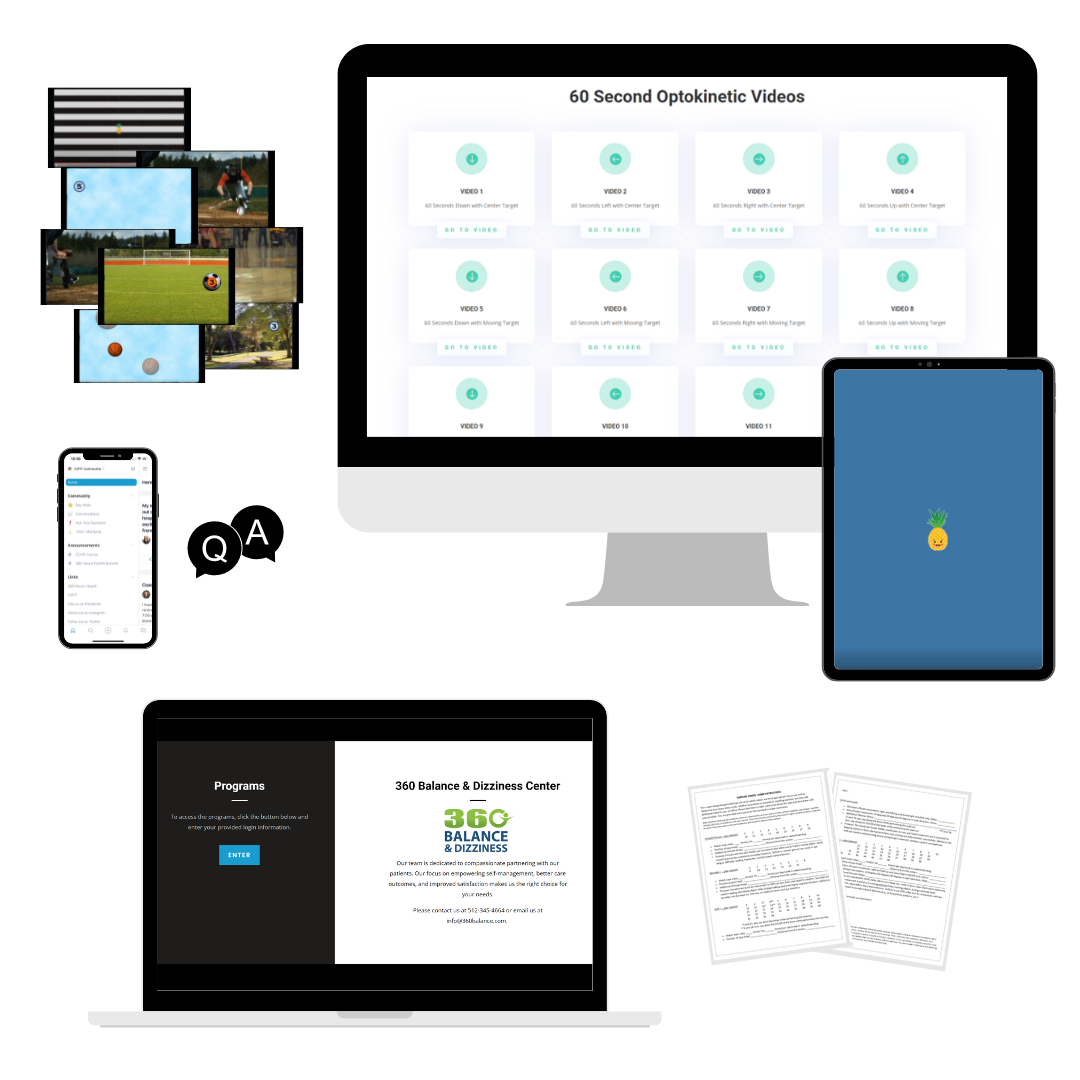 INTEGRATE
A Multi-Sensory Integration Training Program. On-demand access to Oculomotor, VOR, and Optokinetic videos. Can be used in the clinic, training room, or as a home program.
An ever-growing collection of Optokinetic, VOR, and Oculomotor videos with step-by-step instructions and direction on how to implement the program.
Customize with your brand - logo, name, and welcome message. Use in the clinic or easily share with your patients as a home therapy tool. Can also be utilized as an athletic enhancement program.
"I felt it was a nice consolidated kit that included a lot of basics that I can use to shoot videos for my post-professional athletic training courses. I thought the price was reasonable and actually posted your email about it on one of my course announcements. As we move into more active treatments I think there is a lot an AT can do in their own clinic that could substantially help patients, while reducing some of the healthcare access burdens we see in certain patient populations or geographic locations, where vestibular therapy is not readily available.""
- Tamara McLeod, PhD, ATC, FNATA

Check your inbox to confirm your subscription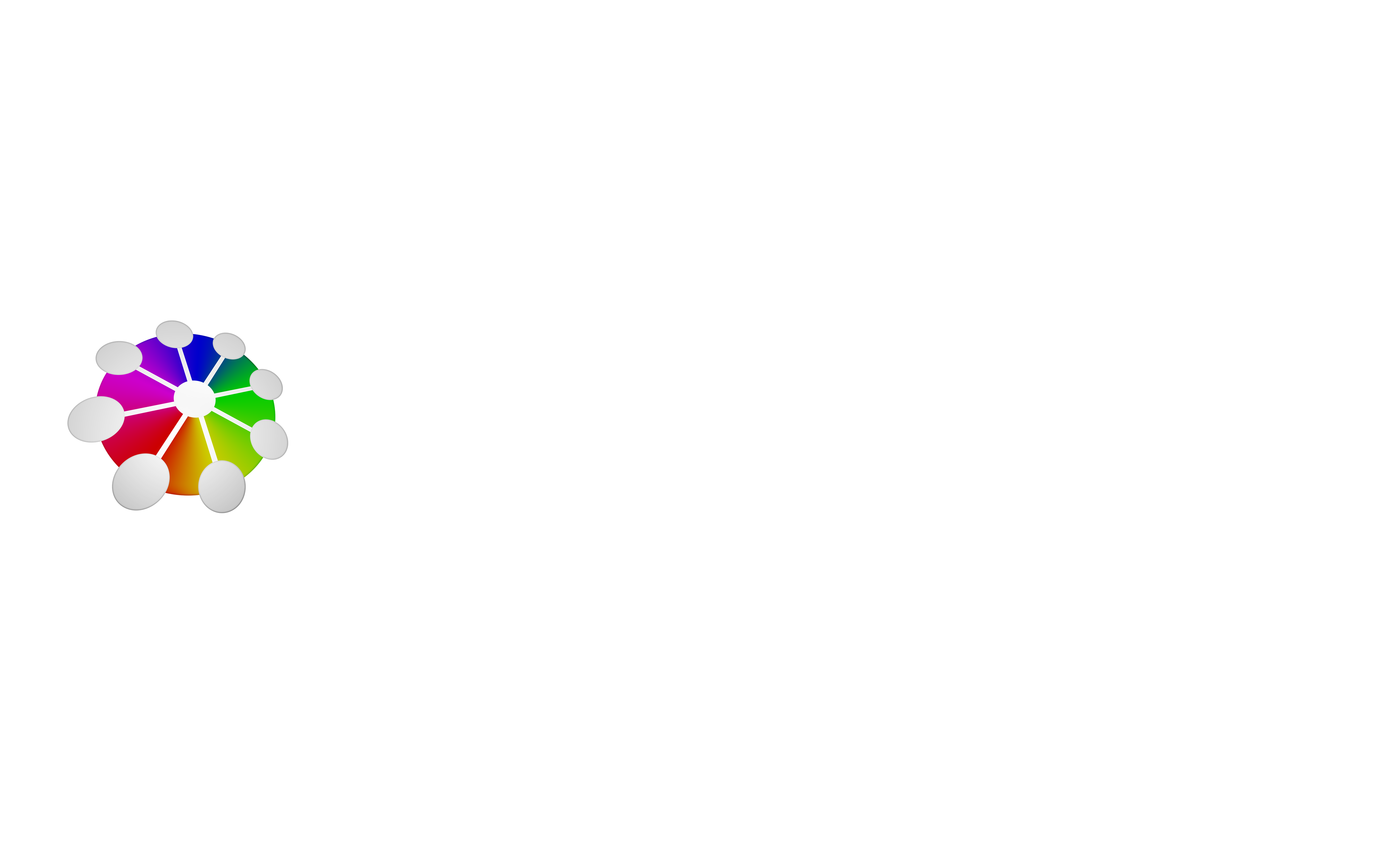 Our Manifesto
We believe in multidisciplinary connections, knowing that working together increases access to meaningful content and awareness.
Quick Links