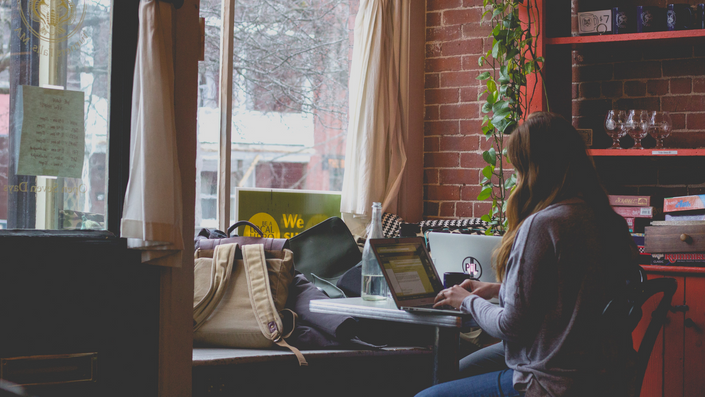 Certificate of Competency in Vestibular Rehabilitation (CCVR) Course
The Certificate of Competency in Vestibular Rehabilitation (CCVR) Course, in partnership with Texas State University and the University of Wisconsin, is designed to build your understanding and know-how through practical application of the methodologies in vestibular rehabilitation – the same methodologies we use to assess and treat the vestibular population.

The CCVR Course provides you a convenient and flexible path to advanced training in vestibular rehabilitation through online coursework. Upon completion of the online coursework, participants will have the opportunity to demonstrate required clinical skills in the virtual lab. Not only is this a self-paced, on-demand course, but we do also have the option of following along with our guided lesson plan.
With this training, you are more consistently applying your working vocabulary and fundamental concepts into your practice. You begin to delve more deeply and confidently into your skillset. This is the level where your skills more closely match your experience and you're ready to take an even deeper dive into cases that are best understood through a comprehensive understanding of vestibular-related anatomy and physiology, the advantages/disadvantages of vestibular-related diagnostics, and the uncertainties associated with more complex cases.
Practical, Problem-Solving Application
---
We've upgraded our digital learning experience to maximize your training potential and meet all of your on-demand needs. Our content features case studies with subject matter experts who deliver evidence-supported vestibular related topics. The case-study format is to provide a practical, problem-solving application of the more in-depth theoretical framework discussed in the videos.
---
---
Online Learning Platform
---
The CCVR Course content and features continue to evolve. We've been busy behind the scenes developing a new online learning experience to help you succeed through interactive modules, quiz and exam question banks, discussion boards, live chats, and so much more!
---
---
Lifetime Access
---
An ever-growing collection of resources, literature, new articles, new treatment ideas, preparatory quizzes, and case presentations, especially atypical cases + over 20 subject matter experts providing weekly educational lessons on a variety of evidence-supported vestibular related topics.
---
---
Weekly Coaching Calls
---
Multidisciplinary collaboration in a friendly and judgment-free atmosphere to share your insights and ask questions with the course director, CCVR faculty, and other experts in the vestibular field. The coaching calls are held weekly and recorded for later viewing.
Your Content
Lesson 1: Vestibular Anatomy & Physiology
Available in days
days after you enroll
Lesson 2: Neurophysiology of Vestibular Compensation & The Value of VNG
Available in days
days after you enroll
Virtual Lab
To receive your Certificate of Competency in Vestibular Rehabilitation (CCVR), you must successfully demonstrate required clinical skills in the following areas:
Clinical Exam - Nystagmus
Oculomotor Exam
Vestibular Ocular Reflex
Cervical Exam and Treatment
Positional Testing
BPPV Treatment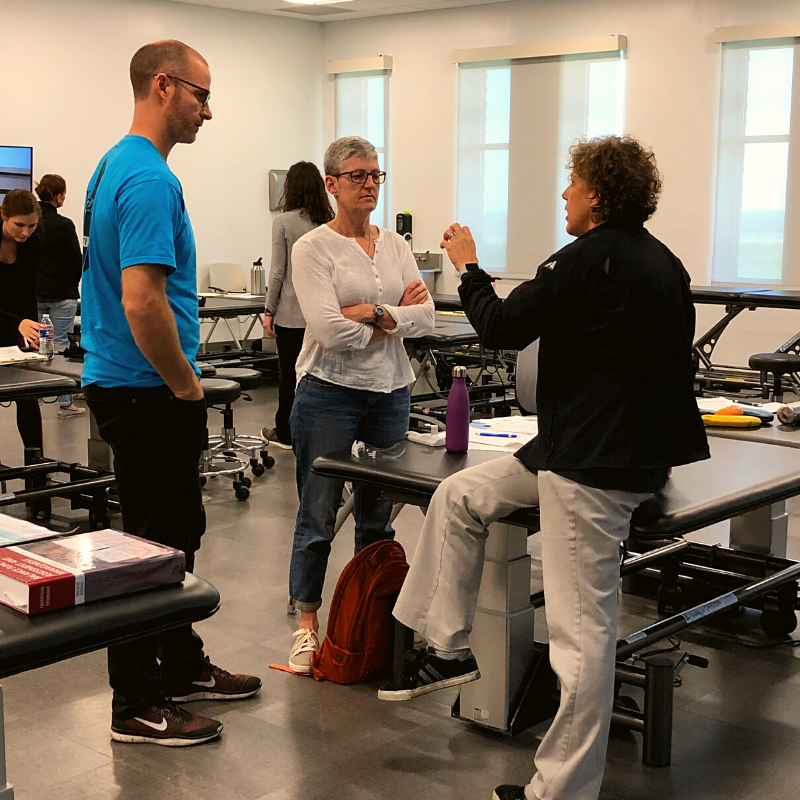 SET YOUR PACE
Set your pace of learning and apply these skills as you progress through the information.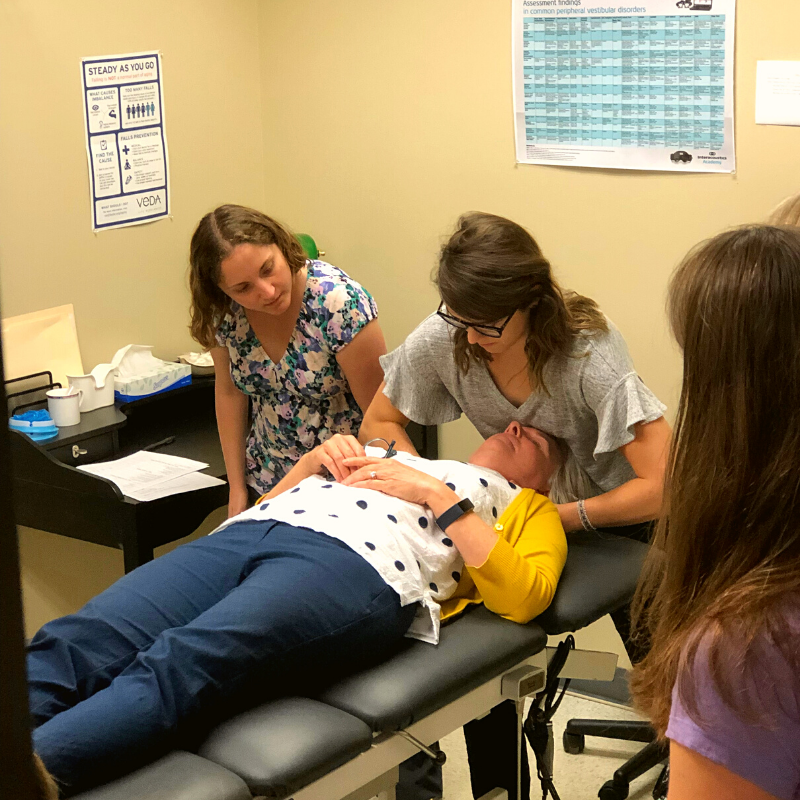 WORKSHEETS & TEMPLATES
Get worksheets and templates so you can put the course materials into action.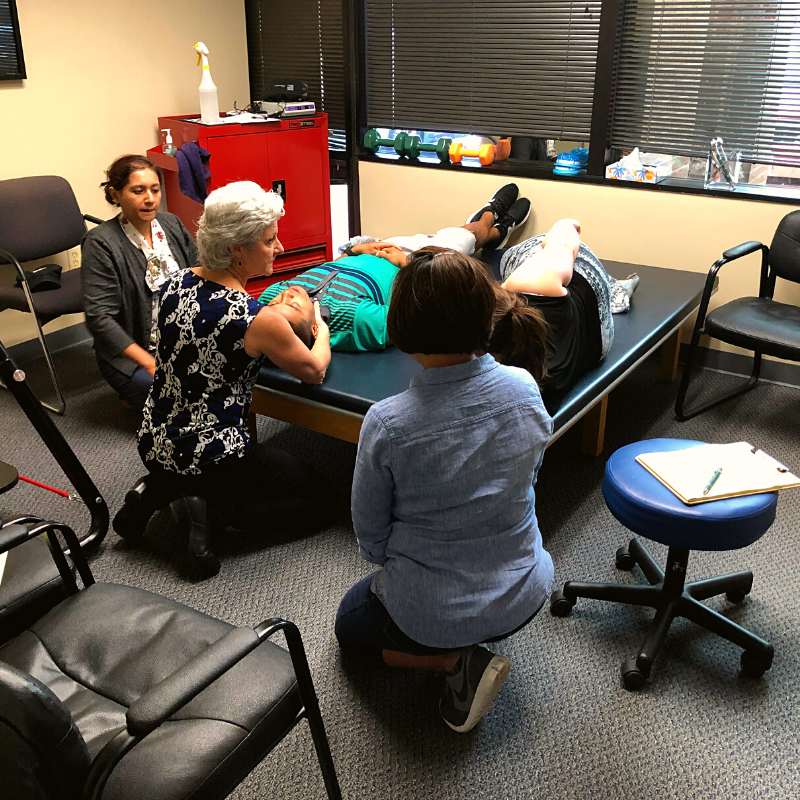 COMMUNITY
No more waiting for answers – collaborate with our diverse community.
Objectives
Upon completing this course, you'll be able to:
Explain anatomy and physiology of the vestibular system to apply to peripheral and central vestibular disorders.
Identify the primary roles of the vestibular system in eye coordination, postural control, and autonomic nervous system contributions.
Be familiar with the guiding principles of nystagmus and physiology of vestibular compensation.
Explain the clinical usefulness in vestibular diagnostics (VNG, VEMP, vHIT, ABR, and ECochG) and comprehensive audiograms for in patients suffering from dizziness and/or balance disorders.
Utilize clues from the history and categorize dizziness with a comprehensive intake to create a working diagnosis.
Identify descriptors during the intake to determine visual dysfunction
Identify key components of a comprehensive clinical vestibular examination, utilizing reliable and valid bedside and functional vestibular tests.
Identify the most common peripheral vestibular disorders and be familiar with the most appropriate management, including medical management.
Identify key components of an abbreviated ocular screen and be familiar with criteria to recognize tropias and phorias.
Identify upper motor neuro screening tests to identify potential central involvement as well as how to segmentally assess the upper and lower cervical spine for restrictions of mobility and describe specific strength testing to identify impairments of the cervical musculature.
Be familiar with how to assess the integrity of the ligaments and stability of the upper cervical spine.
Be familiar with the biomechanics of BPPV to apply in the differential diagnosis of both typical and atypical presentations, including differential criteria between horizontal canal BPPV vs Light Cupula vs central pathology.
Identify patients who are good candidates for further referral and/or vestibular rehabilitation, including specific interventions for visual processing impairments and visually induced dizziness.
Describe appropriate vestibular exercises to optimize adaptation or compensation, including targeted strategies for vestibular ocular reflex exercises.
Describe exercises for ocular stretches, saccades training, smooth pursuits training, vergence training, central-peripheral visual integrations, and visual spatial processing.
Identify the most appropriate canalith repositioning maneuver(s) for both typical and atypical BPPV.
Describe targeted gait training activities to improve speed and stride length for minimizing risk for falls and optimizing efficiency in ambulatory tasks.
Define evidence-based medicine and recognize the strengths and limitations of testing procedures and interventions in patients with dizziness and balance disorders.
Identify at least 3 assessment and 3 treatment strategies to address impairments post-concussion.
Understand basic principles for evaluating patients involved in litigation and role as an unbiased agent of the court.
Identify the "red flags" that heighten concern for malingering and exaggeration.
Frequently Asked Questions
Q: Is the CCVR Course virtual?
A: It is a virtual, on-demand course that allows you to proceed at your own pace however, we do have the option of following along with our guided lesson plan.
Q: Can you sign up any time or does it have a particular start/end date? If no particular start/end time, then can students take as long as they want to complet
A: Yes, you can sign up at any time. There are no start/end dates and you can take as long as you need to complete the course. We find that on average our students complete the course, virtual lab, and final exam within a 4 month period.
Q: It sounds like students will need to be evaluated on skills. How is this done if the course is online?
A: You will demonstrate your skills via video with course instructor. Participants are required to demonstrate skills in the following areas: Clinical Exam - Nystagmus, Oculomotor Exam, Vestibular Ocular Reflex, Cervical Exam and Treatment, Positional Testing, and BPPV Treatment.
Q: How many hours per week commitment?
A: We have found that participants spend 3 to 5 hours per week working through the course material.
Q: When are the coaching calls?
A: We have regularly scheduled coaching calls with course instructors (1 hour per week). These are live and recorded for later viewing.
Q: When are the quizzes?
A: The quizzes are at the end of every module. They will always be available to you so you can go back at any time to review the questions.
Q: When will the virtual labs be held?
A: Virtual labs occur every month. Once you've completed the course material, you will pick the virtual lab date that works for your schedule. After successfully demonstrating your skills, you will receive a link to take the final examination.
Q: How experienced in vestibular rehabilitation should a therapist be before attempting this course?
A: Experience is recommended but not required. Keep in mind that the format will be presented in a supportive, interactive manner. You will have access to weekly coaching calls and everyone should know that all participants are encouraged to ask questions as needed. We will also make available preparatory reading materials as well as links to additional resources for those participants who are interested.
Q: Will there be continuing education credits available?
A: This educational offering is eligible the following hours:​ 39.25 continuing education hours (competency-based track that includes online course and a virtual lab). Certificates will be awarded upon successful completion of the educational offering and evaluation form.
Q: What is your cancellation policy?
A: Cancellations made 15 days after purchase will result in a full refund. Refunds will be issued within 10 days of cancellation. Cancellations after 15 days will result in loss of full tuition.
Q: How long does it take to get through the CCVR Course?
A: The CCVR Certification Course is organized into a flexible schedule that allows you time to complete the course at your own pace. Plus, once you purchase the course, you will have lifetime access to all of the modules and materials. We want to give you as much time as you need to complete the certification as we recognize that all of you are industry professionals with busy schedules.
Q: Can you help me show my employer the return on investment for this course?
A: Although no course (or even licensure) guarantees that individuals will retain and/or apply skills appropriately, successful completion of competency-based training has shown to result in improved patient outcomes and is cost-effective. Investing in more advanced training is considered a win-win-win. Employers demonstrate an investment in their staff, which can increase confidence and value in the employee as well as decrease staff turn-over. Staff can increase clinical skills and job satisfaction. Patients have better outcomes. Here are 3 points of interest to discuss regarding the return-on-investment (ROI) in competency-based education: (1) Bottom Line: ROI = Financial Return/Investment: Niche market w/minimal cash investment to treat patients with dizziness and/or balance disorders. Vestibular dysfunction is present in 40-50% of geriatric population with dizziness/imbalance1. Example: If you add 15 visits a month (1 - 2 patients) with an estimate of $80/visit over just 3 months (45 visits), this results in $3,600 in revenues. When you consider the cost of the CCVR course as a $997 investment, the financial return on investment (ROI) is 260%. (2) Quality of Care: The Vestibular Disorders Association (VeDA) found that providers who considered/screened for vestibular dysfunction during the initial visit for patients with dizziness resulted in an accurate diagnosis within 1 month versus 8 months when the provider did not consider the vestibular system as a plausible cause2. (3) Patient-Centered: Studies show vestibular rehabilitation results in better patient outcomes than general therapy and medication alone. Medications continue to be one of the most common treatments for dizziness. Yet, in most cases, effective treatments are available through vestibular rehabilitation without the use of medications that typically hinder the recovery process and increase the risk for falls3-4. Research shows that targeted, customized vestibular rehabilitation results in better patient outcomes versus general therapy and improving patient outcomes is the ultimate goal. Although the bottom line ROI can easily be shown through increased referrals in a niche market with little investment, the true ROI becomes less about bringing in money and more about the patient-centered bottom line through the following: early identification and treatment of the cause(s) of dizziness and/or imbalance, optimal patient outcomes and higher patient satisfaction. REFERENCES: 1. Murdin, Louisa, and Anne G. M. Schilder. Epidemiology of balance symptoms and disorders in the community. Otol Neurotol. 2015;36(3):387–392. doi:10.1097/mao.0000000000000691. 2. Haven, Lisa. VEDA Produces Benchmark Study to Help Reduce Suffering. On the Level: Quarterly Newsletter of the Vestibular Disorders Associations. 2011;28(3-4):1-9. 3. Horak FB, Jones-Rycewicz C, Black O, Shumway-Cook A. Effects of vestibular rehabilitation on dizziness and imbalance. Otolaryngol Head Neck Surg. 1992;106:175-80. 4. Giray M, Kirazli Y, Karapolat H, Celebisoy N, Bilgen C, Kirazli T. Short-term effects of vestibular rehabilitation in patients with chronic unilateral vestibular dysfunction: a randomized controlled study. Arch Phys Med Rehabil. 2009;90:1325-31.
Q: Will this course give me a title?
A: This course will not give you a title that indicates a board recognized certification. Currently, there is no recognized board certification in vestibular rehabilitation. You can use the designation, Certificate of Competency in Vestibular Rehabilitation**, upon successful completion of our didactic and practical competency-based coursework. This designation, however, is to be spelled-out and not be represented by initials after your name and other degrees and board certifications. You must, however, also know your practice act to be aware of any language that would supersede this. We also encourage you to know the position of your professional association. For instance, the following is a more current statement by the American Physical Therapy Association (APTA)**, "The APTA spells out out non-APTA certifications and honors in its materials and publications only when they are contextually relevant and space is available. The House position does not provide for abbreviating non-APTA certifications and honors after someone's name." The following is an example: Jane Doe, PT, DPT, Certificate of Competency in Vestibular Rehabilitation, ImPACT Trained Physical Therapist, Certified Exercise Experts for Aging Adults.
Q: What is your contact information?
A: ​Leave a voicemail with our answering service at 888-313-4443 or email us at
[email protected]
(preferred method).